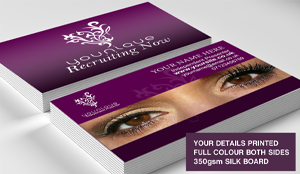 We gave in to the demand and now we are presently finishing off the designs for 4 different business cards that will be available in August. The cards are available now! And we're constantly adding more design options for you to make a great impression.
Younique Glitter cards – Portrait style here
Younique Glitter Cards – Landscape style here 
Younique EPIC 4D business cards here
Younique Moodstruck EPIC Mascara business cards here

All printed on quality (NOT THIN) silk board, personalised with your own Name/Website/Facebook/Phone details.
Cost from £6.99 – £24.99